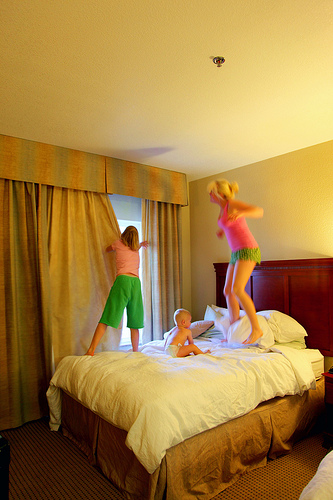 Our nation's capital is an awesome place for a family get-away, especially in the fall when the humidity has subsided and the city is abuzz with excitement post-election. Surprisingly, Washington DC can be a relatively inexpensive family trip, as the majority of its many museums are free, and it's pretty darn kid-friendly, too.
Need another reason to go? UrbanSitter is there! We've expanded to provide families in the DC area with reliable, trustworthy sitters they can book quickly and easily. Why not let us find you a sitter for a night out while you're in the area? It's just as easy as booking a sitter at home.
Below we've highlighted a few hot attractions to take the family – a couple you likely haven't heard of – and just for you, we've also included suggestions for a presidential night out without the kids. Check these out:
You need to act quickly if you don't want to miss this groovy international festival. It's only running through November 14th. The festival is presented by the 27 European Union Member States, each offering a taste of its homeland. There are performances, workshops and screenings for children, storytelling, and puppet, dance and magic shows. Some performances require reservations. All are free. Check web site for schedule and to purchase tickets.
The Smithsonian is the world's largest museum and research complex, consisting of 19 museums and galleries, the National Zoological Park, and nine research facilities.  The museums can be overwhelming for anyone, especially kids, so do a bit of homework to determine which few you'll visit this time and save the rest for your next visit (kinda like a trip to DisneyWorld). There are some astonishing attractions that will blow the socks off your kids. Consider a few of these:
Before you go, explore with your kids the Smithsonian's web site created for kids. It's informative, interactive and very cool.

The white obelisk is one of the most recognized landmarks in the country. It's especially fitting to visit near election time, since the memorial honors our first US President, George Washington. What a great visual for a mini history lesson your kids will long remember. Spend some time at the base of the building, letting kids count the fifty flags symbolizing our 50 states, then take the elevator 555 feet to the top for a bird-eye view of the city. It's spectacular!
The Historic National Theatre holds "Saturday Morning at the National," a free performance series designed for kids age four and up. Performances range from puppet, magic, music and ballet. Seating is limited and tickets are distributed on a first-come, first-served basis 30 minutes before show time. Check website for performance schedule. Show times: 9:30 am and 11 am.
Don't Forget Date Night!
Your kids will undoubtedly be tuckered out after a jam-packed day in DC. Let a sitter put them to bed early while you hit the town. Where to go? You 'll feel like a real First Lady when you pick one of these hot restaurants where the Obamas reportedly celebrated Michelle's past two birthdays:
The Source. This Wolfgang Puck high-end eatery located next to Newseum, hence its name, is a three-story, modern architectural wonder. It's earned many awards for its food and dining experience. The downstairs lounge offers a more casual, Japanese Izakaya-style menu, which includes sushi, sashimi and noodle dishes (and kobe sliders diners rave about). Upstairs is a finer affair with contemporary interpretations of Asian dishes. The wine and sake menus are outstanding, as are the floor-to-ceiling windows with a view.
Equinox. Todd Gray's Equinox is one of the first to embrace sustainability practices, including eating local, when it opened in 1999. Its cuisine is mid-Atlantic done clean and modern with a Northern Italian twist. Reviewers consistently mention the tasting menu and upscale comfort foods as the best picks on the menu. How does it feel? It's minimalist and slick, but anything but cold, thanks to a glass fireplace, floor-to-ceiling windows, and a stunning marble bar. Even if you don't spot the Obamas there, we hear it's quite a hot spot for people watching.
What are you waiting for?! DC is calling.
Need a DC babysitter? Sign up for a free account and search by date & time to find available sitters on UrbanSitter.com.