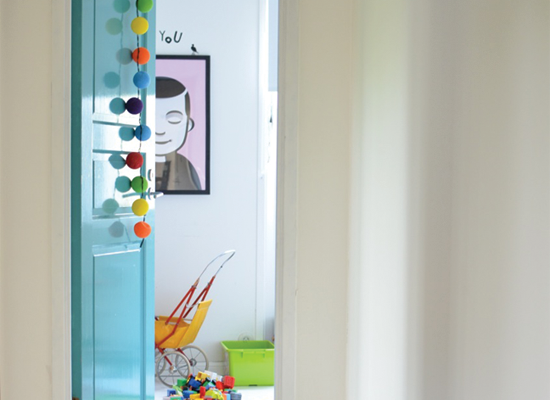 Itching for a little summertime DIY, but low on time, talent or budget? Here are five home projects with a big impact that anyone who can pick up a paintbrush can pull off in no time at all. These painting projects will go a long way in sprucing up your home and leaving you with some good DIY satisfaction. Call a sitter and get your creative juices flowing!
1. Shiny, Bright Door: There's no need to break your back painting an entire room in your house to totally transform a space. You can make big change by simply changing the color of the door. Forget boring white. Seriously jazz up a door in your home, maybe the door to your kid's room, a drab laundry room or even the front door by painting it a bright color with a high-gloss finish. Let the photo here inspire you (you won't find any how-to on the Barcelona blog where we found it) and then head over to for step-by-step instructions for how to paint a door and have it look like you hired a professional. (via Transito Inicial & Pretty Handy Girl)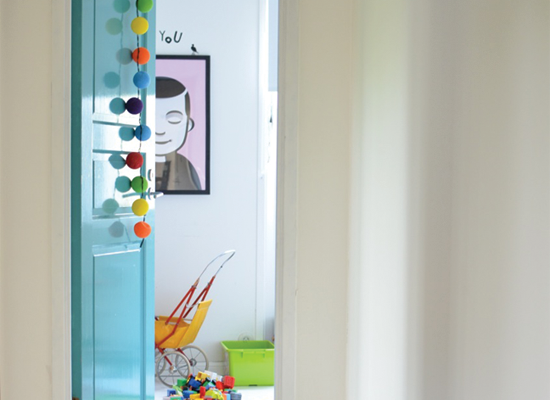 2. Family-Friendly Dining: Have your dining chairs fallen victim to countless mealtime mishaps and sticky fingers? Or maybe you're ready to retire the highchair and move your baby into a seat at the big kid table…but you're short a chair. No need to fret about finding an exact match. Hit CraigsList, a consignment shop, flea markets or your own garage or attic to scrounge up a suitable set. Then spray paint the chairs the same color for the look of cohesion or go wild with multiple colors for a rainbow of family-friendly dining options. Check out Confessions of a Spray Paint Addict to see how easy it is to totally transform something with a simple can of spray paint. (via Where Happy Lives)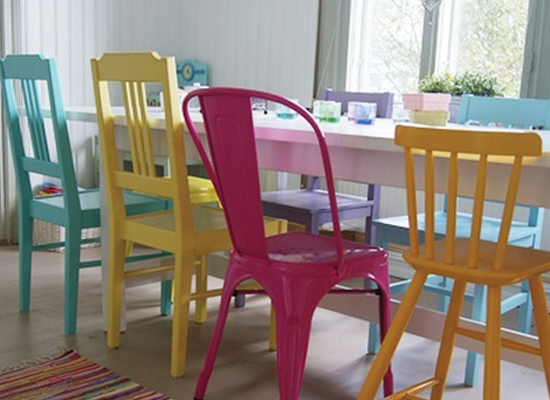 3. Family Command Station: Will the wonders of chalkboard paint ever cease? You've seen them all – full blackboard walls and hallways, flower pots you can write on, even toys – but have you seen chalkboard paint turn a cabinet door into a family command station? You can use scrap cabinet doors (like leftovers from someone else's kitchen renovation) to create colorful blocks of board that not only cheer up wall space and look like art, but also provide a handy space to keep the family organized and exchange notes. Either recycle an old cabinet door or take it a step further and paint a door or two that's already hanging on a cabinet in your house. (via Lolly Jane)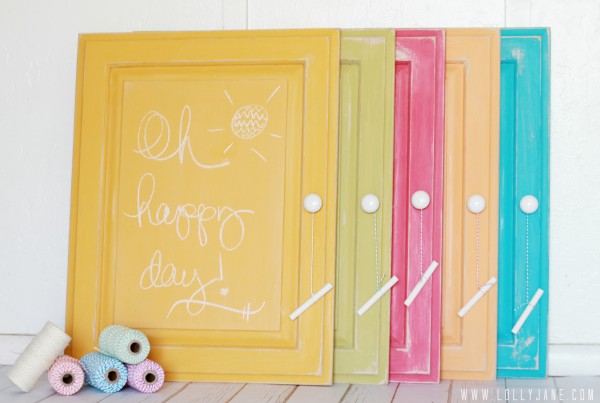 4. Clever and Cute Stenciled Room: Stenciling requires more time, effort and finesse than simply applying a coat of paint – but the extra work pays off. While some stencils are complex and difficult to work with, one's from StenCilit are easy to apply and include easy-to- follow instructions. Start with one wall – you might be satisfied with a feature wall, or may be so thrilled with your results that you'll want to do all four walls. Remodelista has step-by-step instructions.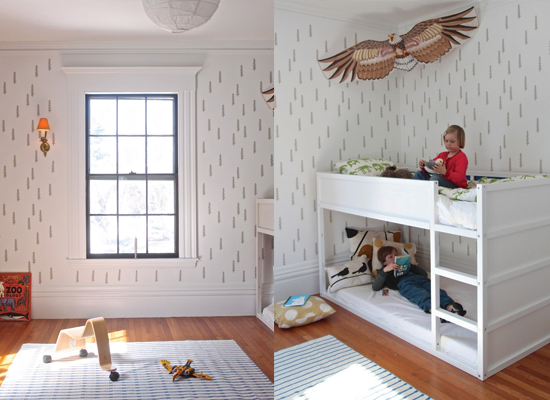 5. Painted Floor: Roll up the carpets and paint the floor! There's a flurry of bright yellow floors on Pinterst. Whether you choose yellow or a more mellow neutral, white or charcoal, you'll no longer need your rugs to liven the place up. Painted floors can be tricky to do on your own, but you can pull it off by doing your homework and making sure you have a suitable, well-prepped floor before you paint.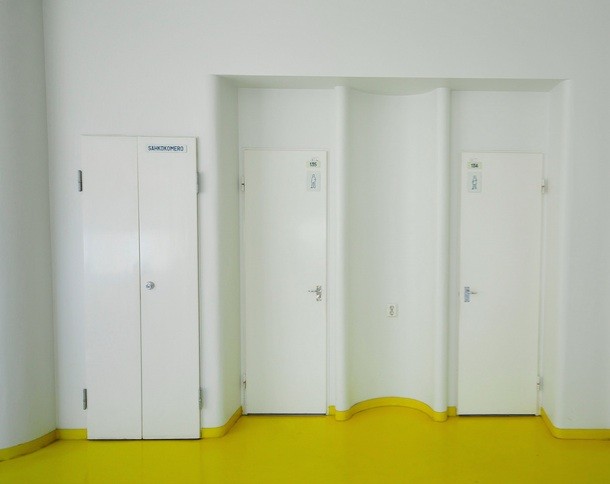 What DIY project have you got your eye on?