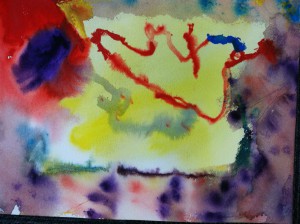 In celebration of Mother's Day, UrbanSitter is teaming up with you, our loyal babysitter members, and your charges to make meaningful Mother's Day memories for all the moms we know and love.
Create a piece of artwork celebrating mom with your favorite charges and you could win two canvas prints of the artwork – – one for your charge to give to their mom as a Mother's Day gift, and one for you to keep as a memory of your favorite kiddo!
________________
How To Enter:
Next time you babysit for your favorite family, plan some time for crafting and help your charges create a piece of artwork for their mom — be sure that mom doesn't see it when she comes home!
Be creative, but please make sure your piece of artwork fits on a piece of paper (20in x 30in max.).
Great mediums to use include: crayons, pencils, pastels, paper collage, paint, watercolor, glitter, etc.
Take a full-frame, high-res photo of the artwork – if possible, use a camera for higher resolution, instead of a phone. *NOTE: Do not include the child in the photo. Please only include the artwork.
Email the photo to artcontest@urbansitter.com. Please include:

Email Subject line: Art Contest Submission – YOUR NAME
Your name (first and last) and email address registered with UrbanSitter.
The first name and age of the artist.
A caption for the photo (chosen by the artist).

Once you've sent in your submission, share a photo of the artwork in the Babysitter Facebook group!
Please submit your photo by April 17th, 2015.
________________
Picking A Winner:
An UrbanSitter Judging Committee will pick the top five (5) pieces of artwork based on:
creativity
demonstrated love for & celebration of mom
The top five pieces will be shared with UrbanSitter parents via the UrbanSitter Facebook page. Parents will have one week to vote for their favorite piece. At the end of one week, the piece of artwork with the largest number of votes will be declared the winner!
________________
The Grand Prize:
The winning team (sitter & kiddo) will receive two canvas prints of the winning piece of artwork – one for for your charges to give to their mom on Mother's Day, and one for you to keep as a memory of your favorite kiddos! Canvas prints will be shipped on or around April 30th, 2015.
________________
URBANSITTER MOTHER'S DAY ART CONTEST OFFICIAL RULES
NO PURCHASE OR PAYMENT OF ANY KIND IS NECESSARY TO ENTER OR WIN THIS CONTEST. A purchase or payment will not affect or improve chances of winning. This contest (the "Promotion") is subject to all applicable laws and regulations. VOID WHERE PROHIBITED OR RESTRICTED BY LAW.
By entering this Promotion, entrants accept and agree to be bound by these Official Rules. Any violation of these rules may, at Sponsor's discretion, result in disqualification. All decisions of the Sponsor regarding this Promotion are final and binding in all respects.
SPONSOR. The sponsor of this Promotion is UrbanSitter, Inc., 268 Bush Street #3944, San Francisco, CA 94104 ("Sponsor" or "UrbanSitter").
This promotion is in no way sponsored, endorsed, or administered by, or associated with Facebook. You are providing information to the Sponsor and not to Facebook. The information you provide to the Sponsor may be used for advertising and promotional purposes without additional compensation, in accordance with the Sponsor's privacy policy, unless prohibited by law.
PROMOTION PERIOD. The UrbanSitter Mother's Day Art Contest (the "Promotion") begins Wednesday, April 1, 2015 at 5:00 PM PST and ends Tuesday, April 28, 2015 at 12:00 AM PST ("Promotion Period")
ELIGIBILITY. This Promotion is only open to legal residents of the 50 United States and District of Columbia who are at least 18 years old and the age of majority in their state of primary residence as of the date of entry, except officers, directors, independent contractors and employees of the Sponsor or any other party associated with the development or administration of this Promotion, and the immediate family (i.e., parents, children, siblings, spouse), and persons residing in the same household, as such individuals ("Promotion Entities"). This Promotion is void outside the 50 United States and the District of Columbia, and where prohibited.
HOW TO ENTER
Contest submissions must be received via email at artcontest@urbansitter.com and must include required entry information. Submissions to the Promotion must be received by Friday, April 17 at 11:59 PM PST in order to be eligible; entries received after the deadline will be deemed ineligible to win. All entrant information, including e-mail addresses, is subject to the Privacy Policy of the Sponsor. Entrants must have an unhidden Babysitter UrbanSitter account to enter the Promotion (no purchase, fee or payment is required to sign up for an UrbanSitter account). Entry is limited to one entry per person; no automated, photocopied or reproduced entries will be accepted. Multiple entries will result in disqualification of all entries. Entries generated by any means which subvert the entry process will be void. Entries will be deemed submitted by the authorized account holder of the email address used to enter. All Entries are final upon submission and become the property of Sponsor and will not be returned. By entering, you agree to be bound by these Official Rules.
Contest Entry may not contain, as determined by the Sponsor, in its sole discretion, any content that: is sexually explicit or suggestive; unnecessarily violent or derogatory of any ethnic, racial, gender, religious, professional or age group; profane or pornographic; contains nudity; promotes alcohol, illegal drugs, tobacco, firearms/weapons (or the use of any of the foregoing); promotes any activities that may appear unsafe or dangerous; promotes any particular political agenda or message; is obscene or offensive; endorses any form of hate or hate group; appears to duplicate any other submitted Entries; defames, misrepresents or contains disparaging remarks about other people or companies; contains trademarks, logos, or trade dress (such as distinctive packaging or building exteriors/interiors) owned by others, without permission; contains any personal identification, such as license plate numbers, personal names, e-mail addresses or street addresses; contains copyrighted materials owned by others (including photographs, sculptures, paintings, and other works of art or images published on or in websites, television, movies or other media), without permission; contains materials embodying the names, likenesses, voices, or other indicia identifying any person, including, without limitation, celebrities and/or other public or private figures, living or dead, without permission; contains look-alikes of celebrities or other public or private figures, living or dead; communicates messages or images inconsistent with the positive images and/or good will to which Sponsor wishes to associate; and/or violates any law. Contest Entry must be the original, unprofessional work of the entrant, may not have been previously published, may not have won previous awards, and must not infringe upon the copyrights, trademarks, rights of privacy, publicity or other intellectual property or other rights of any person or entity. If the Contest Entry contains any material or elements that are not owned by the entrant, and/or which are subject to the rights of third parties, the entrant is responsible for obtaining, prior to submission of the Contest Entry, any and all releases and consents necessary to permit the use and exhibition of the Contest Entry by Sponsor in the manner set forth in these Official Rules, including, without limitation, name permissions from any person who is identifiable in the Contest Entry. Sponsor reserves the right to request proof of these permissions in a form acceptable to Sponsor from any entrant at any time. Failure to provide such proof may, if requested, render Contest Entry null and void. By submitting a Contest Entry, entrant warrants and represents that he/she and any persons appearing or who are identifiable in the Contest Entry consent to the submission and use of the Contest Entry as set forth herein. Sponsor reserves the right, in its sole discretion, to verify any element of any Contest Entry or related materials, request additional information and to disqualify any entrant whose participation may subject the Promotion, Sponsor, or Sponsor's advertisers, clients, or customers to controversy, negative publicity, scorn, or ridicule.
By submitting a Contest Entry, entrant hereby grants permission for the Contest Entry to be published at http://www.urbansitter.com, http://www.facebook.com/urbansitter, or other websites. Entrant agrees that Released Parties (as defined below) are not responsible for any unauthorized use of Contest Entries by third parties. Released Parties do not guarantee the posting of any Contest Entry and reserve the right to remove any posted Contest Entry at any time whatsoever and/or for any reason.
LICENSE FOR USE OF ENTRIES. By submitting a Contest Entry, each entrant grants, and represents and warrants that the entrant has the rights and authority necessary to grant, Sponsor an irrevocable, non-exclusive, fully sublicensable license and right to exploit, edit, modify, and distribute the Contest Entry and all elements of such Contest Entry, including, without limitation, the photo and the likenesses of any persons identified therein, in any and all media now known or hereafter devised, worldwide, in perpetuity without compensation, permission or notification to entrant or any third party.
WINNER SELECTION AND NOTIFICATION. 
One (1) winner of the Contest Prize ("Contest Winner") will be determined on or about April 28th, 2015 (the "Contest End Date"). Contest Entry showing the largest total number of votes on the UrbanSitter Facebook page will be deemed Contest Winner, subject to verification of eligibility and compliance with these Official Rules. In the event of a tie in votes among Contest Entries, the Sponsor in its sole discretion, will determine the Contest Winner from among the tied Contest Entries by random selection. Entrants are prohibited from obtaining votes by any fraudulent or inappropriate means, including, without limitation, offering prizes or other inducements to members of the public, as determined by Sponsor in its sole discretion.
Any potential winner will be notified by email and/or telephone. A potential winner's prize will be forfeited and awarded to an alternate winner (selected by next largest number of votes until a winner is confirmed) upon the occurrence of any of the following: (i) the failure of the potential winner to confirm acceptance of the prize; (ii) the return of a prize notification to Sponsor as non-deliverable; or (iii) the determination by Sponsor that winner is ineligible or otherwise not in compliance with these Official Rules. Upon contacting a potential winner and determining that he/she has met all eligibility requirements of the Promotion, including without limitation the execution of required waivers, publicity and liability releases and disclaimers, such individual will be declared the "winner" of the Promotion.
PRIZE DESCRIPTION
The prize description and approximate retail value ("ARV") for the prize is outlined below. The prize will be awarded as two canvas prints. Prints will not be issued until there is a confirmed winner.
| | | | | |
| --- | --- | --- | --- | --- |
| Date | Brand | Prize Description | # of Prizes | Prize Value |
| April 28th, 2015 | Costco | Two (2) canvas prints | 1 | Approx. $150 |
One (1) Contest Winner will be awarded the contest prize with an approximate value of $150. The contest prize consists of the prize described above, and includes the associated shipping costs.
The prize is non-refundable, non-transferable, cannot be combined with any other special offer or promotion, and must be accepted as awarded. The prize may not be exchanged for cash value or substituted, except that Sponsor reserves the right in its sole discretion to substitute with either the cash value of the prize, or a prize or prizes of equal or greater value. Any other costs or expenses associated with the prize, not including shipping costs of contest prize, are the sole responsibility of the winner. Total ARV of all prizes combined: $150.
TAXES. All federal, state and/or local income and other taxes, if any, are the winner's sole responsibility.
DISCLAIMER AND RELEASE: By participating, each entrant agrees to comply with these official rules and agrees that Sponsor is not responsible for any incorrect or inaccurate information, whether caused by any of the equipment or programming associated with or utilized in the Promotion or by any technical or human error that may occur in the processing of entries in the Promotion. Sponsor assumes no responsibility for any error, omission, interruption, deletion, defect, delay in operation or transmission, communications line failure, theft or destruction or unauthorized access to, or tampering with or hacking of, the web site or any technical failure or malfunction, or any injury or damage to an entrant's or any other person's computer or property.
IN NO EVENT WILL SPONSOR OR ANY PROMOTION ENTITIES BE RESPONSIBLE OR LIABLE FOR ANY DAMAGES OR LOSSES OF ANY KIND, INCLUDING DIRECT, INDIRECT, INCIDENTAL, CONSEQUENTIAL OR PUNITIVE DAMAGES ARISING OUT OF ENTRANT'S PARTICIPATION IN THE PROMOTION, ANY PRIZES WON, ENTRANT'S ACCESS TO OR USE OF SPONSOR'S WEB SITE, OR THE ACCESSING, DOWNLOADING AND/OR PRINTING OF ANY MATERIAL AVAILABLE ON SAID SITE. WITHOUT LIMITING THE FOREGOING, EVERYTHING ON SPONSOR'S WEB SITES IS PROVIDED "AS IS" WITHOUT WARRANTY OF ANY KIND, EITHER EXPRESSED OR IMPLIED, INCLUDING BUT NOT LIMITED TO, THE IMPLIED WARRANTIES OF MERCHANTABILITY, FITNESS FOR A PARTICULAR PURPOSE OR NON-INFRINGEMENT. SOME JURISDICTIONS MAY NOT ALLOW THE LIMITATION OR EXCLUSION OF LIABILITY FOR INCIDENTAL OR CONSEQUENTIAL DAMAGES OR EXCLUSIONS OF IMPLIED WARRANTIES SO SOME OF THE ABOVE LIMITATIONS OR EXCLUSIONS MAY NOT APPLY.
WINNER CONSENT AND INDEMNIFICATION. By accepting a prize in this Promotion, the winner grants to Sponsor, where permitted by law, the right to use and publish (worldwide and via the Internet) his/her name, city and state of residence, portrait, image, picture, voice, likeness and comments for advertising, trade and promotional purposes without notification, review or approval, and without additional consideration.
BY ACCEPTING A PRIZE, THE WINNER AGREES TO INDEMNIFY AND HOLD HARMLESS SPONSOR AND ALL PROMOTION ENTITIES FROM ANY AND ALL LIABILITY FOR ANY INJURY, LOSS OR DAMAGE OF ANY KIND TO PERSONS, INCLUDING DEATH, AND PROPERTY, ARISING FROM OR IN CONNECTION WITH ACCEPTANCE, POSSESSION, USE OR MISUSE OF ANY PRIZE, PARTICIPATION IN THIS PROMOTION OR ANY PROMOTION-RELATED ACTIVITY.
MISCELLANEOUS. If, for any reason, the Promotion is not capable of running as planned because of circumstances including, but not limited to, unauthorized intervention, fraud, technical failures, changes or outages in Sponsor's website or the Sponsor's page on Facebook, or any other causes, which, in Sponsor's sole judgment, corrupts or affects the administration, security, fairness, integrity or proper conduct of this Promotion, Sponsor reserves the right, in its sole discretion and determination of fairness, to cancel, terminate, shorten, extend, modify or suspend the Promotion and to select the winners from entries received prior to such event or interruption. Sponsor may disqualify any entrant who tampers with the entry process or operation of the Promotion or who violates these official rules.
APPLICABLE LAW AND JURISDICTION. By participating in the Promotion, each entrant acknowledges he/she has read, understands and will abide by these official rules. All issues and questions concerning the construction, validity, interpretation and enforceability of these official rules, or the rights and obligations of entrants and/or Sponsor in connection with the Promotion, shall be governed by and construed in accordance with, the laws of the State of California, without regard to the conflict of laws principles. By participating in the Promotion, entrants submit to the jurisdiction and venue of the federal, state and local courts located in San Francisco, California.
WINNER LIST.
For a list containing the name of the winner, send a self-addressed stamped envelope, within one (1) year of the Promotion End Date, to: Winner List (2015 Sitter Art Contest), UrbanSitter, 268 Bush Street #3944, San Francisco, CA 94104.