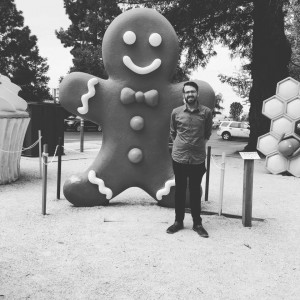 "It's just great getting to watch the kids grow up," says Brandon, current UrbanSitter babysitter, on some of the perks of babysitting kids. A Rhode Island native, Brandon is now finishing up his Ph.D. in astrophysical chemistry at George Mason University in Fairfax, VA. On top of the huge academic achievement, being a scientist, he says, has actually helped him land some fun babysitting jobs!
Here, Brandon shares what it's been like working as a male babysitter, his original inspiration for becoming an astrophysical chemist, and some of the other things he loves most about working with kids.
How did you get into childcare?
As long as I can remember, I've been interested in working with kids. My neighbors growing up had kids that I watched, starting when I was about ten or eleven. My brother and I both hung out with the neighborhood kids, usually when the mom was working in the evenings. More recently, I was on another childcare site for a little while, before UrbanSitter got started. And a family that I had found on this other site referred me to UrbanSitter.
What was your first experience like with UrbanSitter?
I found my first UrbanSitter job with a family that I still currently work for. I've been with them for three and a half years. They gave me glowing reviews, and then once I got that, I got a job working with a kid who was 8 months old at the time. From there my business on UrbanSitter just exploded. I'm also an admin for a Facebook group in the DC area that has five to six thousand babysitters and parents. Between that and UrbanSitter, I've been able to maintain a constant inflow of jobs. I've actually had to turn down several jobs because I just can't keep up anymore.
Now that I've been on UrbanSitter for awhile, one of the things that I often do is offer to help checking out people's profiles—especially with male sitters, I think they often need a little help. I ask new sitters to link me to their profiles and I'll give them pointers, about adding more about their experience with kids or maybe even taking a different photo or getting some reviews.
Most of the babysitters on our website are female, so what are some experiences you've had as a male sitter that they might not experience?
It can be hard finding parents who are willing to hire a guy. I've had jobs where the girls specifically ask for a male babysitter, but I'm mostly looking for jobs where it boys, especially older boys, where they need another male friend or someone they can relate to. One of my families, their son is turning 14 this month, and the first time that I babysat for him he was 12. He wrote a note before he went to bed and he asked me to give it to his mom and the note said, "Brandon is my favorite babysitter ever please, please, please, let him come back!"
What is your favorite part of babysitting?
It's challenging! I mean, I'm getting my Ph.D. in chemistry, so I tend to go for things that are challenging by nature. But, I think one of my favorite things about childcare is that no two kids are alike. I get to use my experience to take different approaches in my different jobs. And before babysitting jobs, I'll usually ask the parents, "What are strategies that you use [with your kids]?" And then I'll develop new strategies based on how they answer that question and what I know about kids. And my experience over the last 15 or so years of babysitting, I've kind of developed my own philosophy for interacting with kids.
School aged kids are my favorite age to babysit. With kids between eight and 13, I've had the most fun. Mostly because a lot of the parents of kids in that age group hire me because they see that I'm a scientist and their kids have expressed some interest in science, chemistry, physics, or space. Parents see that I'm working on all of those things, and they want someone their kids can talk to and relate to about that stuff.
One of my favorite things to do is to I make something called "oobleck." It's just water and cornstarch, but it's a non-Newtonian fluid. What happens is, in its natural state it's more like a liquid than anything. If you put gradual force into it, your hand will go through like a liquid, but if you slap or punch it, it'll form a solid. So it's both a liquid and a solid and the kids have all really enjoyed making that! Another one of the things that I've really enjoyed doing is working on electronics projects. I once taught a four-year-old electronics components! I was telling him, "Okay, this is a resistor and this is a capacitor, this is an LED" and he was going on and using those terms. It was really cute.
You're getting your Ph.D. in astrophysical chemistry, which is no small feat. How did you get into that field?
My parents knew that I had a passion for science. When I was little they got me one of those cheap telescopes, and I remember taking it out one night in 2004 and I saw a lunar eclipse and I thought that was the coolest thing. As I got older, I started getting bored in school, so I asked my parents to take me to the public library and I spent a lot of time there. I took advantage of that and took out a lot of books. I started reading college level books in 7th grade!
Has UrbanSitter played any role in helping you get through graduate school?
As an undergrad and as a grad student, I have had other jobs [outside of UrbanSitter]. I have been a graduate teaching assistant, teaching chemistry labs, and now I'm working full-time on writing my dissertation. I got a grant to from George Mason that is paying me to do my research, which is nice. Between those jobs, UrbanSitter has been able to help me for paying for my side expenses. And because of UrbanSitter—because of babysitting—I don't have to live on a ramen diet!