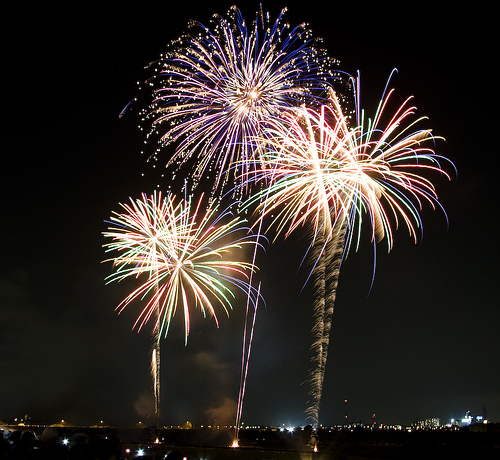 Don't miss out on the loads of family fun and fireworks displays there are for the taking this July 4th. Here's a round up of events in the San Francisco Bay Area, Los Angeles, San Diego, Chicago, Boston and NYC:
SF BAY AREA
4th of July at the Berkeley Marina
July 4, 2013
12 pm – 10 pm
The 4th of July at the Berkeley Marina is a big family-friendly party, complete with Adventure Playground where kids can build with hammers, nails, saws, and paint (open 11am-8pm), face painting, giant slide, or play at the beach. There's live entertainment from noon until 9:30PM on the main stage. Cost: Free.
Fillmore Street (between Jackson and Eddy), San Francisco
July 6 and July 7, 2013
10 am – 6 pm
Billed as the largest free jazz festival on the West Coast, this street fest is expected to draw more than 100,000 people. You'll hear live music from multiple stages, browse the offerings of over 12 blocks of fine art and crafts and enjoy gourmet food and beverages. Take the kids for a stroll through the festivities or
book a sitter
and enjoy the sites and sounds sans kids.
San Mateo County History Museum
2200 Broadway, Redwood City
July 4, 2013
10 am – 4pm
Celebrate Independence Day as they did in the 1880s with craft activities and hand-churned ice cream. Super family-friendly event!
32nd Annual Summer Festival & Chili Cook-off
Mitchell Park – 600 East Meadow Dr., Palo Alto
July 4, 2013
12 pm – 5pm (Chili tasting starts at 1:30pm)
Taste an array of red-hot chili delicacies prepared by teams of chefs battling for the chili championship.  Live music, children's activities including jumpy houses, balloon artist, face painting, food vendors, and more
Los Altos Hills Town Hall
26379 W Fremont Road, Los Altos Hills, CA
July 4, 2013
9:30 am -11am
Red, white and blue march will start at 10 am, parading down Fremont Road and concluding at Gardner Bullis School where folks will meet for a refreshing beverage and a juicy watermelon treat!
SAN DIEGO
Old Poway Park, Poway, CA
July 4, 2013
10 am – 4 pm
Celebrate our country's independence "turn-of-the-century-style" with live entertainment, a ride on a steam train (with train robbery reenactments!), photos with Uncle Sam, games, demos, shopping, a visit to the Heritage Museum and lots of good eats.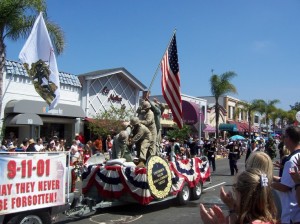 Coronado, CA
July 4, 2013
Starts at 5 am
Grab your spot as early as 5 am along Orange Ave for the parade. You can also take the ferry over from downtown San Diego to Coronado. Parade starts at 7 am, followed by a full day of festivities, music and fireworks.
LOS ANGELES
July 4th Late Night and BBQ at Aquarium of the Pacific
Aquarium of the Pacific, Long Beach, CA
July 4, 2013
5 pm – 10 pm
BBQ 3 -5 pm or 6-8 pm
Celebrate Independence Day with the red, white, and blue fish at the Aquarium of the Pacific. Great family event where you can enjoy the ambiance of the Aquarium at night and also catch the City of Long Beach fireworks display. BBQ menu is listed on their web site . Aquarium is open from 9 am to 10 pm with discounted admission starting at 5 pm.
65th Annual Pacific Palisades Fourth of July Parade & Fireworks Spectacular
Pacific Palisades, CA
July 4, 2013
Starts at 2 pm
This parade is known as one of the top Independence Day parades in the entire U.S.A. After the parade, at sunset, Pacific Palisades resident and Foo Fighter lead guitarist Chris Shiflett headlines a two-and-a-half hour, family friendly concert –Palisades Rocks the Fourth- with his band Chris Shiflett and The Dead Peasants at Palisades Charter High's Stadium by the Sea. The Pacific Palisades Fireworks Spectacular will conclude the event at Stadium by the Sea.
BOSTON
Boston Pops Fireworks Spectacular
Hatch Shell, Boston, MA
July 4
Concert begins at 8:20PM and ends at 10:30PM with a fireworks display from 10:30PM to 11:00PM.
Free outdoor concert in the Hatch Shell aside the Charles River is a glittering, unforgettable Independence Day tradition. The Boston Pops Fireworks Spectacular is known as the premier Independence Day celebration in the nation. Each year, since its inception, hundreds of thousands of people come from all over the country to the banks of the Charles River to celebrate America's birthday while another seven million tune in nationally on the CBS Television Network to view the event during a live one-hour primetime special.
July 2-7
Festival, centered around the Boston Pops Concert and Fireworks, lasts the week and offers more than 220 events, including: walking tours, concerts, Revolutionary-era historical reenactments, the famous Chowdafest, visits from U.S. and foreign naval ships, harbor cruises, State House tours, guided walking tours, treasure hunt, tour of Coast Guard ships, whale watch and dinner cruises. Check out the MBTA's special schedules during Harborfest.
Boston Harborfest Children's Day
City Hall Plaza, Boston
July 3
10 am – 3 pm
Kids can join organizations like The USS Constitution Museum, Historic New England and the New England Aquarium to learn something new and exciting about Boston and its history. Event includes a live juggling act, children's musical performers, balloon presentations, live dancers, and more. Cost: free.
CHICAGO
July 4
10 am– 12 pm
Highlights include patriotic musical performances, a reading of the Declaration of Independence, and a children's parade led by the World's Tallest Uncle Sam. Cost: Free admission to the outdoor event on Uihlein Plaza, free Museum admission for Illinois residents.
Arlington Race Track – 4th of July Fireworks
Arlington Heights, Illinois
July 4, 2013
Gates open at 1 pm
Horse racing and music by day, and fireworks by night. The day's racing starts at a special post time of 3 pm and the racing action will run nearly seamlessly into a spectacular fireworks display that gets underway at nightfall. Rock band How Far to Austin will be playing live on the band stage in the Park throughout the day and into the evening. Robbie Gold Band performs in the Winner's Circle before the fireworks display. The fireworks will run more than 30 minutes, and will be synchronized to a mixture of patriotic and popular music, and will encompass the entire infield area of the racecourse.

The first 5,000 in attendance will receive a special gift and the first 1,000 kids will receive a complimentary Firecracker Popsicle. Cost: $15 adults, $2/child. 4th of July Fireworks Tickets
Lincoln Ave at Belmont, Chicago
July 6 and 7, 2013
Saturday 12-10 pm and Sunday 12-9 pm
40,000 people are expected to come experience Chicago's ultimate music and culinary fare. Great food, live music, artisans and crafts vendors, and an array of street performers make for an incredible weekend event.
NEW YORK CITY
37th Annual Macy's Fourth of July Fireworks
Launched from the Hudson River, NYC
July 4, 2013
Broadcast starts at 8 pm
This year's show is directed by Usher, and promises 40,000 fireworks synchronized to a 25-minute score. Line-up includes Mariah Carey, Tim McGraw and Nick Cannon.
Best places to watch if you're in NYC, check here to see how to find and access the best points for the best views. 
Nathan's Famous Hot Dog Eating Contest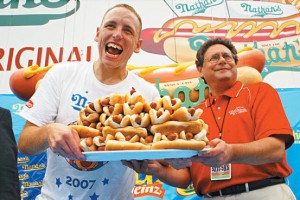 Nathan's Famous Flagship at Surf Ave. at Stillwell, Coney Island, NY
July 4, 2013
Event starts at 12 pm
More than 40,000 people attend Nathan's Famous Hot Dog-Eating Contest every year where contest winners are awarded a $20,000 cash prize. Good family fun on the 4th!
Various locations, many departing from Chelsea
July 4, 2013
There is obviously no shortage  of July 4th cruise options in NYC. It's a fantastic way to watch the Macy's Fireworks display with a guaranteed seat with a view. Why not leave the kids home with a sitter, and enjoy an evening cruise with a special date? No need to keep the kids up late! Classic Harbor Line offers several cruises on a variety of ships, many with open bars and passed hors d' oeuvres. Check their web site for options, pricing and booking.
Are your little ones too tiny for Fourth of July fun? Not to worry. There are plenty of babysitters on UrbanSitter who would love to help you out!