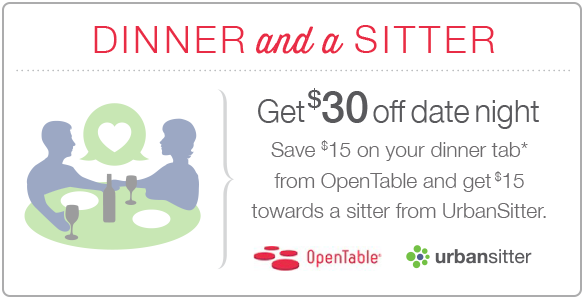 Thirty bucks says you and your better half could use a night out. You know, like the good old days. Check out a new restaurant. Have a real conversation. UrbanSitter and OpenTable are here to make date night easier and more affordable.
Get $15 off a $100 OpenTable Gift*
» Buy a gift card with coupon code DATENIGHT at checkout
» Make a dinner reservation
Purchase an OpenTable Gift
Get $15 credit from UrbanSitter
» Sign up with discount code DATENIGHT
» Good for one Sitter Introduction ($15 value)
Sign up for UrbanSitter and book a babysitter for the evening

Already an UrbanSitter member? Enter discount code DATENIGHT on your Credits page.
………………………………………………………………………………………………………………………………………………
The OpenTable Gifts offer expires on June 28th at 4:00pm PDT.
The UrbanSitter offer expires on July 31st at 11:59pm PDT.
*$15 off minimum purchase of $100 OpenTable gift card. OpenTable Gifts are only redeemable at participating restaurants. OpenTable Gifts are not available everywhere and are not accepted by all OpenTable restaurants, so please check the OpenTable Gifts page to see the list of participating in your area.
UrbanSitter $15 credit may be used for Sitter Introduction fees only. Not valid for babysitting fees or Premium membership. Must be registered user of UrbanSitter with valid credit card on file to redeem offer. Restrictions include sitter availability and service to requested location (not all areas served). Visit UrbanSitter offer page for details.